Please note that we are just taking walk-ins. No Bookings

for enquires the phone is answered between 10am to 5pm each day

"Beer … now there's a temporary solution"
– Homer Simpson
Ask staff what beer is on rotation this month.
Please note: Some of our beer contains gluten & our wine contains sulphates
What can we say about Guinness ~ you just have to try it! Made just a mile up the road, sit back, relax and enjoy a pint of the black stuff. Dublin, IRELAND. (Barley)
Beamish Irish Stout has been brewed in Cork since 1972. Beamish is a flavoursome stout with hints of coffee and dark chocolate. Cork, IRELAND. (Barley)
Eventide Rye River Irish Stout
4.5% ABV
A traditional Irish stout with a silky coffee, chocolate and toffee aroma. A delicate and balanced bitterness that finishes dry like a great Irish stout should! Co. Kildare , IRELAND. (Barley)
Rye River Big Bangin' IPA
7.1% ABV
Our take on the U.S. West Coast IPA style using only the finest malted Maris Otter Barley and heavily hopped with tropical aromatic hop varieties. Co. Kildare, IRELAND. (Barley)
Rye River Irish Red Rogue
4.4% ABV
Aromatic, malt driven Irish red ale bringing through aromatic caramel malts. Aroma of biscuit, roast caramel and dark fruits balanced by an earthy bitter tone. Co. Kildare, IRELAND. (Barley)
Rye River Lil' Bangin Session IPA
3.8% ABV
A smooth and sessionable IPA with intense aromas of juicy ripe fruit, tangerine and pine which follow through to a silky body. Co. Kildare, IRELAND. (Barley)
Rye River Bidin' Time Irish Lager
4.5% ABV
An Irish lager German inspired. Lagered longer than most. Brewed with German hops, German malt and German lager yeast. Co. Kildare, IRELAND. (Barley)
Rye River Upstream Pale Ale
4.5% ABV
A balance of bitter citrus hop character with a soft malt body pushing through the aroma of grapefruit, orange peel and pine. A light body and a touch of honey. Co. Kildare, IRELAND. (Barley)
A light beer from the makers of Guinness inspired by the rugged landscape of the west of Ireland. Dublin, IRELAND. (Barley)
Experience the light, crisp and refreshing taste of Rockshore but with less calories. Made with just 4 quality ingredients. Dublin, IRELAND. (Barley)
A light, crisp, refreshing taste with a less sweet taste than other cider inspired by the bracing refreshment of the Atlantic coast. Dublin, IRELAND. (Sulphites)
Smithwicks is an Irish red ale style beer from Kilkenny, IRELAND. (Barley)
A German pilsner style beer brewed by Carlsberg. DENMARK. (Barley)
A refreshing new take on smooth and creamy with softened bitterness, a harmonious blend of roast and chocolate notes and an unexpectedly refreshing finish. Cork, IRELAND. (Barley)
Coors Light is a light beer brewed in Golden, Colorado, USA. (Barley & Wheat)
A Dutch pale lager beer first brewed in 1873, HOLLAND. (Barley)
Ireland's favourite cider. Patiently vat matured to deliver a pure and natural character. Tipperary, IRELAND. (Sulphites)
O'Hara's 51st State IPA
4.5% ABV
A New England style IPA bursting with bold tropical flavours of grapefruit, passion fruit, apricot and peach. Co. Carlow, IRELAND. (Barley & Wheat)
O'Hara's Falling Apple Cider
5.0% ABV
The Carlow Brewing Company's first craft cider. We hope you enjoy! Co. Carlow, IRELAND. (Sulphites)
O'Hara's Irish Nitro Red Ale
4.3% ABV
Creamy with hints of sweet caramel and mild nutty biscuit. Co. Carlow, IRELAND. (Barley & Wheat)
Orchard Thieves Cider
4.5% ABV
Crafted from the perfect mix of crisp and tart apples for an instant fresh apple taste, Orchard Thieves really cuts through and instantly refreshes. U.K. (Sulphites)
Orchard Thieves Blood Orange
4.5% ABV
A delicious fruity extension of Orchard Thieves Cider. U.K. (Sulphites)
Hop House 13 Lager
4.5% ABV
A full flavoured, double hopped lager from Guinness made with Irish barley and aromatic hops for a refreshingly crisp taste. IRELAND. (Barley)
Genuine Italian beer produced using a traditional process. ITALY. (Barley)
Guinness 00 provides the iconic taste of Guinness draught, rich and creamy with a velvety finish but with no alcohol. Dublin, IRELAND. (Barley)
O' Brother Dreamcatcher Session IPA
4.3% ABV
Bold with lots of punch, lovely grapefruit and orange balances the juicy, tropical hop flavours finishing clean and fresh. Co Wicklow, IRELAND. (Barley)
O' Brother The Chancer Pale Ale
4.6% ABV
A bold and fresh American pale ale. Floral on the nose with fresh herbal notes and grapefruit citrus. Co Wicklow, IRELAND. (Barley)
Rascals Happy Days Pale Ale
4.1% ABV
A mouth watering hop combination of Vic Secret, Citra, Cascade, Mosaic and Hull Melon ensures this beer gets VIP treatment. Dublin, IRELAND. (Barley)
The same quality ingredients in regular Heineken. HOLLAND. (Barley)
A crisp and refreshing beer crafted with passion and flair to offer a delicate balance of bitterness and subtle citrus aromatic notes. ITALY. (Barley)
Golden lager, slightly fruity with a crisp but refreshing bitterness. MEXICO. (Barley)
Cocktails
Irish Whiskey Cocktails
Teeling Whiskey Sour
€13.95
Teeling Single Malt, lemon juice, sweet and sour syrup, Angostura bitters
Liberties Lemonade
€13.95
Teeling Small Batch, triple sec, lemonade & lime
Irish Old Fashioned
€13.95
Powers Irish Whiskey, Benedictine, Angostura bitters, sugar syrup and soda water
Fercullen 8 Year Old Whiskey, gingerbread liqueur, butterscotch schnapps & a dash of cider
Dingle Gin, ginger ale, lemon juice and muddled lemons
Red Light District
€13.95
Boatyard Gin, fresh lime, cranberry juice and ginger ale
Drumshanbo Gunpowder Gin, apple schnapps, orange bitters, rhubarb bitters, apple and ginger juice
Gordon's Pink Gin, fresh lemon, sugar syrup, creme de cassis and berry medley
Vodka, Malibu, Midori, pineapple juice and lime
Peach Schnapps, Midori, strawberry liqueur with orange juice and lemonade
Malibu, strawberry liqueur, cranberry juice with fresh strawberry
The Brothel Keeper
€13.95
Dark rum, spiced rum, lemon juice, apple juice and sugar syrup
Domaine Castelnau Syrah
France
100% Syrah grown in a Mediterranean Climate. Let yourself be carried away by the gourmet flavours of black fruits with touches of soft chocolate and velvety tannins on the palate
Ca' Del Doge Cabernet Veneto IGT
Italy
A soft easy drinking Cabernet Sauvignon with gentle tannins and ripe black fruit flavours. Great for barbeques and for parties
Domaine Castelnau Merlot / Cabernet
France
This is a wonderful easy to drink wine with lots of red fruit flavours, good acidity and tannin. Light medium in body and well balanced. Enjoy with light snacks
Rosé Wine Cal y Canto Rosado
Spain
Wonderfully light and fruity Spanish wine. Perfect for sunny weather drinking or for light seafood and salad dishes
Vignoble Gibault Sauvignon VDL
France
A classic style Loire Valley Sauvignon Blanc. A dry white wine full of freshness and elegance, lively, and very fragrant with aromas of pear, grapefruit and pineapple
Serenissima Pinot Grigio
Italy
A real tasty fruity wine with a slight after-taste of bitter almond. That is an ideal pairing with light dishes such as salads and seafood
Domaine Castelnau Chardonnay Les Ronces
France
An elegant chardonnay. Fruity notes enhanced by subtle spiced aromas giving a certain balance to the wine
La farra Valdobbiadene Prosecco Frizzante
Italy
From the renowned vineyard "Rive of Nardi" located in the upper hills of Farra di Soligo in Italy this Prosecco benefited from the best conditions and offers up surprising levels of fruitiness of and depth of flavour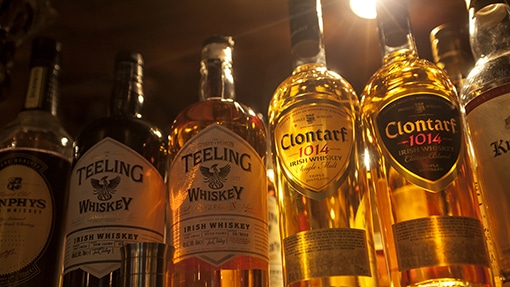 Please note: Some of our beer contains gluten & our wine contains sulphates
Darkey Kelly's Bar & Restaurant
Fishamble Street,
Dublin 2.
Ireland.
Tuesday
10.30am - 11.30pm
Wednesday
10.30am - 11.30pm
Thursday
10.30am - 11.30pm
Saturday
10.30am - 12.30am
Please note that we are just taking walk-ins. No Bookings

For enquiries phone from 10am to 5pm